[New Racers] Please note that all new users need to be approved before posting. This process can take up to 24 hours. Thank you for your patience.

Quick Tips for New Riders
Noodlebrain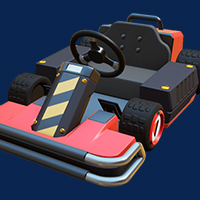 KartRider: Drift Rep: 375
Posts: 2
Member
With the closed beta right around the corner, I'd figure I share a few tips that you can use to up your game.
Boost Start
At the start of the race, If you press the accelerator (up arrow on PC) right when the countdown finishes ("GO" appears on screen), you will blast off from the starting line, leaving behind other racers in the dust!
Resetting Your Kart
If you've found yourself falling off the track, or stuck in a wall, you can press the reset key (R on PC) to reset yourself onto the track, realigning you facing forward.
Some Item Mode specific tips:
Rocket Recovery
If you are launched into the air by an opponent's Rocket, you can get a recovery boost by pressing the accelerator (up arrow on PC) right as you touch the ground.
Dodging Water Bombs
Water Bombs launch an explosion a set distance in front of the user, trapping opponents caught in it. They will explode on the center of the track, however—you can minimize your chances by getting hit by driving near the edges of the track.
Water Flies and Water Bombs: Shaking It Off
If you are hit by an enemy Water Fly or Water Bomb, you can break out of it more quickly by rapidly alternating Left and Right. There is a graphic that reminds you of this in-game:
Moreover, most karts designed for Item Mode will allow you to get a recovery boost by pressing the accelerator right as you touch the ground, similar to the recovery boost from Rockets.
More tips to come in the near future!